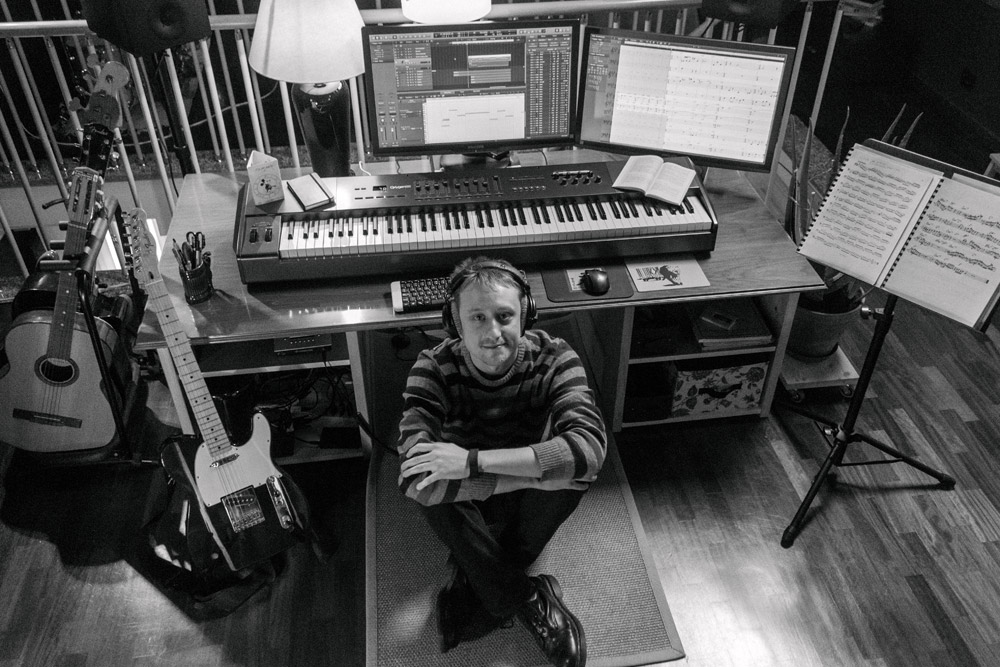 Michele plays bass and writes music

Bass player, composer, orchestrator, copyist, and founder SampleMi, Michele was born in Italy in 1982, and started playing bass at age 12.
He holds a first class degree with honours in classical composition from Trinity Laban Conservatoire of Music and Dance in London, having studied under professors John Ashton Thomas, Stephen Montague, Mark Lockheart, Bruno Heinen, and Gwyn Pritchard. He holds a Masters Degree in Composition, first class with distinction, from University of West London, London College of Music, having studied under professors Francis Pott, Simone Spagnolo, Jan Willem de With, and Bartosz Szafranski.
Throughout his career he played blues, jazz, fusion, latin, rock, pop, funk and gospel music, and collaborated with notable artists like Andrea Dulbecco, Javier Girotto, Antonio Faraò, Bruno Heinen, Stefano Bagnoli, Bebo Ferra, Roberto Cecchetto, Dado Moroni, Claudio Filippini, Giovanni Falzone, Paolo Jannacci, Luciano Zadro, Maciek Pysz, Alex Stuart, Mattia Cigalini, Maxx Furian, Marco Detto, Massimo Colombo, Gene Calderazzo, Walter Calloni and many more.
He was a member of Dockery Farms Blues Band from 1997 to 1999, and in 2001 he started working with singer-songwriter Antonio Turconi for his debut album "Lettere Dal Bagnasciuga" and later recorded "Cronache Imperfette", published in 2009.
In 2002, together with pianist Gianfranco Calvi and drummer Angelo Corvino he formed the band MAG Trio, with whom he recorded "Pensieri Circolari" (2004, with special guest Javier Girotto on saxophone) and "L'Attesa" (2011).
In 2003 he was among the finalists of prestigious "Premio Nazionale Massimo Urbani" for jazz musicians where he won a scholarship to attend the Berklee Summer School at Umbria Jazz Clinics in Perugia the same year.
In 2015 he formed MAMA4 together with Andrea Dulbecco, Massimiliano Milesi and Alessandro Rossi, and in 2016 he formed Kino Trio, together with Bruno Heinen and Riccardo Chiaberta, releasing their first album "Il Cielo Sopra Berlino" in 2019 for Babel Label.
He teaches electric bass, music theory, harmony and music production and has worked as a composer assistant, arranger, and copyist for renewed musicians and publishing companies (Bärenreiter)
He composed and produced music for chamber and jazz ensembles, films, short movies, theatre, video games and commercials for important brands such as Pomellato, Zegna, Who's Who, FullFrameFigure, Prada, Manor, Ostia! Media,
I'm Smart, and many more.
In 2021 he founded SampleMi, a charitable company specialised in creating custom made sample libraries sold for a free donation devolved to charity.
He currently lives in London, UK.
Please consider donating to:
https://samplemilabassa.square.site/